Diary Cards are a key component of Dialectical Behavioral Therapy. These mood, behavior, and skills trackers are meant to help you notice patterns and keep DBT skills at the front of your mind. A diary card is a paper (or an app!) on which you record what skills you used each day of the week, rate your different emotions, and track target behavior usage. It is meant to be filled out every day.
Structure
Diary cards usually have two sections. The following example is the "traditional" diary card shared in Linehan's workbook.
One section (right) has boxes to rate your various emotions on a numerical scale as well as your urges to use target behaviors. It also contains columns to check off whether you used those behaviors.
The other section (below) is a list of skills that you check off according to your usage.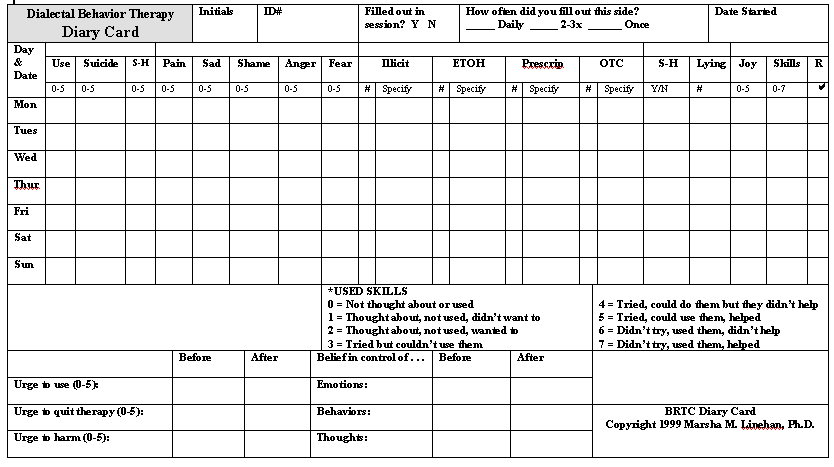 Instructions
You are instructed to bring your diary card to both group and individual therapy. You may discuss it in detail with your individual therapist and in group you will just be asked to share something general about your week. In a lot of programs, you will be asked to do a behavior chain analysis if you don't bring your diary card to session or don't fill it out.
When you first start DBT, you may not have a lot to fill out on the skills page. That's totally okay! You're only just beginning to learn skills, after all. Don't let the empty page discourage you, it'll fill up faster than you think.
Choosing a Diary Card
It's important to choose a diary card design that makes sense to you. There are tons of options out there and you can customize them too. There are also various DBT apps that have a diary card function.
Here are just a few of the options out there that can be customized to your own preferences:
Diary Card 1 is the original diary card found in Marsha Linehan's first DBT workbook. It has a section for skills and a section for emotions and urges.
Diary Card 2 is a more streamlined version of Diary Card 1. It contains the same parts but is less busy.
Diary Card 3 is a daily diary card rather than weekly like the first 2. It also operates like a planner with spaces for a to-do list and schedule as well as they usual emotions and skills trackers.
Diary Card 4 is a fully-customizable spreadsheet that serves as a weekly diary card. The skill section is divided by DBT module and key of numbers that you write in the notes section to denote which you used. The emotions section has a box for various social emotions and behaviors.
Diary Card 5 is another weekly card. There are fewer options for emotions but an ample journaling section. The skill section has helpful descriptions of the skills and a notes section underneath.
Print out this cheat sheet and fold it up to keep in your wallet or pocket for a quick reminder of skills. This version also includes a list of cognitive distortions so you can check your thinking.
This version of the cheat sheet has all the same skills as the first but with space for you to write in your own crisis safety plan instead of cognitive distortions.
SELF-SOOTHE
Chances are you're already using your five senses to help you handle distress. Read More>
TARGET BEHAVIORS & BEHAVIOR CHAINS
Target Behaviors are behaviors you are trying to stop and you may fill out a Behavior Chain if you use one. Read More>